Control your home remotely and intelligently from your mobile phone
Expert advice – An electrician's guide to electrics; the latest updates on renewable heating and a detailed look at build costs.
The Smart Home automation, monitors and responds automatically to things in and around the house: light levels, weather conditions, security breaches, burst water pipes and more
Award-Winning Smart Home design and installation in Herts, Beds, Bucks and North London
Centrally Managed
In the Smart Home, everything runs together from a central, intelligent nerve centre: the little green Loxone Miniserver. From basic switches and off the shelf devices, to the likes of your PV inverter, everything can be combined into one smart home automation system that's simple to use, and affordable too.
Simple to Use
With just a flick of a switch when you're at home, or a swipe of your phone when you're not, you can activate ambience settings that suit your habits and lifestyle
Have a home theatre system that makes the room shake, an alarm that you can control from your smartphone or even lights/curtains that you can adjust while you're out at a restaurant. These are just a few of the things that are possible with your smart home.
Smart Home guide for busy Homeowners Who Love Intelligent Living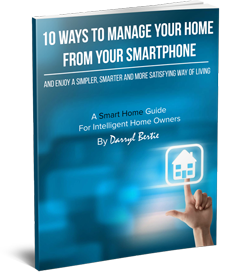 You can control the temperature of every individual room in your home from your smartphone and much more...
Find out more