What is more British than a man doing DIY? Whether you are a jack of all trades around your house, or the master of none, Do It Yourself has increasingly  become the trademark of a true gent! With hammer and spirit level in hand, he will never feel more powerful than when he is marking the wall with a straight line ready to put up some shelves, digging a hole in the garden or in the shed sawing…well…anything really.
Speaking of quintessentially English things, alongside Punch and Judy, Pimms and Morris Dancing, St Georges' day is nearly upon us once again.  The patron saint of England is to be celebrated with flags and beer in pubs (and the odd church minus the beer) across the country on 23rd April despite this particular chap not having any real historical connection to the country.  But as any good man does, Saint George kept drilling away at us, insisting he could be our country's protector despite no previous experience, training or proof to back up his claims, until we declared him our patron Saint.  (Note: previous sentence may not necessarily, strictly be historically correct!)
But despite Saint George never really doing much for us since his attachment to our country, (much like that wonky shelf since it's attachment to your wall last year during a DIY weekender), he at least provided a good lesson in persistence.  So why not follow in his footsteps and continue to insist that you CAN rewire the house, install the power shower and add in new sockets despite plenty of proof to the contrary, until you have absolutely proved beyond reason that you can't and the missus passes you the phone to call in the pro's. (Note: do not actually try any of these things at home unless qualified!)
So instead of spending your evenings battling with all your electrical DIY mistakes, spend next Wednesday night (and the up and coming sunny bank holiday weekends) down the pub celebrating our great patron saint with a cold beer while one of the 5 star team from Bert's Electrics sorts out your wiring, fuse box, security alarm, smoke alarm or whatever else you have advisedly attempted to install/fix yourself.
You never know, our apprentice George might even be round to raise a toast to his namesake with you!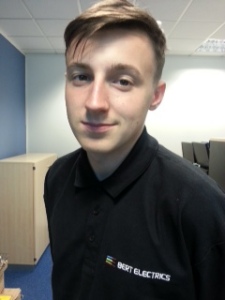 Apprentice George to the rescue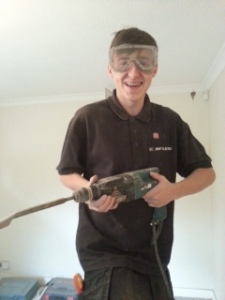 Apprentice George to the rescue
Call Bert Electrics on 01923 369111 or request a call back